We transform the world by building the people and empowering the progress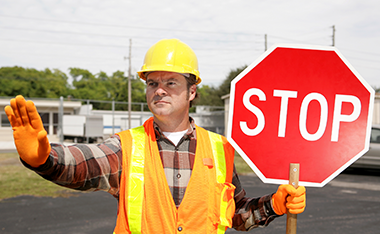 Course Overview
Accidents are the main reason for the injuries over construction site. So traffic marshals are the people who can help to reduce the number of accidents. Traffic Marshals are trained people to instruct and direct the vehicles on construction site. Getwork provide courses for Traffic Marshal as well. This course is made for supervisor, managers and any profile who wants control over vehicles on or around site. This course gives the responsibility for the movement of vehicles and pedestrian traffic safely. This course defines the roles and responsibilities for loading and unloading. Getwork training provides the training that one person needs to be a traffic marshal.
Almost a fourth of all work environment transport wounds happen when vehicles are turning around. Traffic Marshal offer drivers a reliable second viewpoint while moving to have a key influence in diminishing mishaps.
Our Traffic Marshal course covers speculative appreciation of the law, dangers of turning around and a practical some part of the course incorporates our instructors displaying safe manovouring frameworks that agents will in like manner appear as a segment of their useful examination.
Objective
Ensure directing and controlling of the vehicles
To give responsibilities for the protection of vehicle, vehicle drivers, him and pedestrians.
To ensure safety and security at construction site
This qualification is for the individuals who are interested and want proper knowledge related to the moving, stacking and emptying of vehicles. All learners must have a decent understanding and relational abilities keeping in mind the end goal to give or get data to the Instructor and Driver on the course.
This traffic marshal qualification will give you the understanding on how to deal with different kinds of traffic on the construction site. This course helps in understanding the roles and responsibilities of the traffic marshal on the construction site. This course has been customized to meet the lawful prerequisites for associations by following the measures and directions set by the HSE. This is a half day course.
On successful finishing of the traffic marshal course, learners will receive a Traffic Marshal (CPD Awareness) Certificate which is substantial for up to 3 years from the date of completion. The learners will increase information in the safe going of turning around vehicles in kept spaces. They will have the capacity to perceive regions of peril nearby. They will take in all the recommended codes of signs. With these aptitudes, they will have the capacity to direct both verbalized and unbending vast great
Certified by Getwork Training
All prices are exclusive of VAT

Not sure? Contact us or call us on 02039038106
Check all other Training Courses